28 DAY FIXED PRICE SALE
BEST FOR PROBLEM SOLVING (85-90% Market Value paid, FAST ACCESS TO CASH), ££  
This is our most popular option most suited to sellers who are happy to sell for 85-90% of the property's estimate value but who still need a relatively quick and certain sale.
This option particularly suits sellers who require funds and expertise to resolve issues preventing a straightforward full market value sale at auction, such as:
awkward tenants;
short leases;
structural or building regulation issues;
title issues and
legal disputes.
With this option, our company will pay the funds for the expertise in advance to resolve these issues and to subsequently enable the property to sell the property for its best price through our modern auction.
How It Works
Sellers are offered a *Fixed Option Price usually between 85-90% of market value of the property (determined by comparing the property to recent sales of similar property in the same area).  Our company sells the property for a higher price through our auction and we profit from the balance.
From this balance our company pays all the fees to resolve the issues with the property – e.g. resulting from survey results at stage 3 above or as part of an agreement with a buyer to secure a sale.
Completion Stages
National Residential and seller agrees a Fixed Price Offer (the sum the seller will receive IF National Residential can find a buyer willing to pay at least the fixed price offer).
Once this is agreed and the tie in period (8 weeks) is in place, we begin advertising (cannot be started until documents are signed and returned.)
National Residential finds a buyer and secures the sale.
We set our reserve at or slightly above the fixed offer price and we sell the property to the highest bidder. We keep all of the money raised over the fixed price agreed with the seller as our fee. Once the buyer has paid a 2% deposit to secure the sale, we can advance up to 80% of the fixed price offer to the seller.
 We sort out problems to ensure the sale proceeds to completion.
We ensure our buyers are aware of any issues we are aware of in the sale of the property during the negotiations (stage #1) and agree a course of action – e.g. if a freehold property has a short lease, we can extend the lease before the sale completes or sell for a lower price so the buyer extends the lease after completion.
All costs involved in resolving problems are paid from the difference between the fixed price and the sale price.
NB. In the example above (short leasehold) sellers must pay for their own LPE1 and management pack to enable the sale.
 Buyer and seller exchanges contracts.
This has more significance in traditional sales because this is the point traditional sales are secured and a deposit is taken however we secure our sales and take a deposit much earlier in the process (stage 2) so our buyers and sellers cannot change their minds with no penalty or attempt to renegotiate.
 Completion
Buyers pay National Residential the full sale value. We pay sellers the fixed price agreed minus any cash advance.
NB. Depending on the value we add to a property, the financial risk we take investing in solutions and the amount of cash we advance, we may also be able to come to profit share agreement if the sale price exceeds all our expectations however any value we add to the property as a result of our actions will be deducted from the calculations – i.e. if we pay £5K for work that increases  the value by £10K, we would deduct the £5K added value from our calculations.
Cash Advance Option
We are also able to offer an INTEREST FREE – CASH ADVANCE to sellers with this option to provide immediate funds for any reason (subject to conditions and status).
Bespoke Adaptations 
No two sets of seller circumstances and motivation are the same. One of our key advantages is that we can tailor our packages to suit any situation once we know the extent of potential risk & reward. We can then give you exact figures (in writing of course) so you can decide how you want to proceed.
Your inquiry is completely risk free – you will know exactly what we can do for you and if you prefer to use a traditional sale or another service provider, simply walk away.
All our agreements (standard and bespoke) are fully protected by our commitment to the regulatory bodies PRS & NAPB. In the even of any dispute between a client and service provider, they provide a redress scheme to adjudicate and instruct conflicting parties.
Who Chooses This Type Of Sale
Sellers who are happy to accept a fixed price offer at appx 85% of the National Residential's valuation (based on the sales history of similar properties in the area) in return for a fast, secured sale choose this type of sale.
They often include :
People who need access to some of the money generated by the sale before the sale completes  e.g. due to debt and/or debt recovery proceedings. Once we have secured a buyer, we can pay off debts to prevent the seller accumulating more debt due to legal costs issued against them.
People who own property that is difficult to sell also choose this type of sale – e.g. properties that are occupied by tenants, properties in a state of disrepair –  so that they can step back from the complications, stress and uncertainty of having to solve any problems that jeopardise a sale.
People who are spending money on maintaining empty property or paying mortgage repayments with no return on their investment.
Security/Contracts
There are no hidden charges with our sales. Unlike most traditional auctions and some online auctions, we do not charge an entry fee or advertising costs or customer service charges for responding to buyer inquiries. We do not charge for 'for sale' signs or to include video tours (a great selling tool) in our listings. In fact we even pay for the EPC certificates and legal packs required by law to sell a property.
And, despite all the time, effort and money we invest in preparing a property for sale – if we cannot deliver what we agree in the contract, sellers walk away with nothing to pay – i.e. we provide a NO SALE, NO FEE offer.
To protect our investment, we will require sellers sign a Sole Selling Rights (SSR) contract as used by most estate agents. However, our tie-in term is just 8 weeks with 14 days notice to quit which compares very favourably with most estate agents that tie sellers in for 12 weeks or more.
If a property fails to sell at auction we normally relist and/or advertise to our database of investors in the remainder of the tie-in period.
For a full list of our Terms & Conditions, along with sample contracts pls see Fixed Price Option T&Cs.
Fees/Costs
There are no agency fees to pay (a savings of £2000 on our 100% Market value option),
We pay £720 inc VAT towards legal fees on completion if you use our panel solicitors.
We pay for EPC's and pay our national network of agents to create professional video tours, floor plans and photographs for marketing and we pay to manage agents to carry out viewings for you.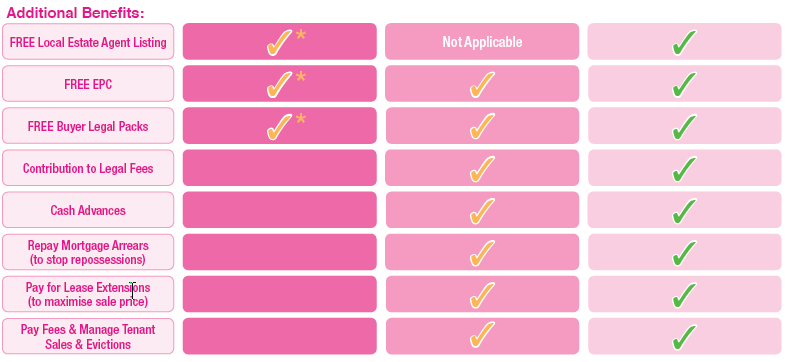 *On a case by case basis. ** We are unable to guarantee sales will complete in 56 days due to seller circumstances varying.
***Leasehold sellers must pay for their own LPE1 and management pack to enable the sale.
Frequently Asked Sellers' Questions
Please call us on
01244 341066
(local rate, mobile friendly) or
0800 6123694
(Freephone). One of our sales staff will be happy to help you immediately