We manage the process from start to finish so that processes run smoothly and together.
WE DELIVER VACANT POSSESSION WITH A FAST SALE
Sell Property With Sitting Tenants
The figures stated fluctuate according to market conditions and seasonal influences. The following information is intended as a guide only.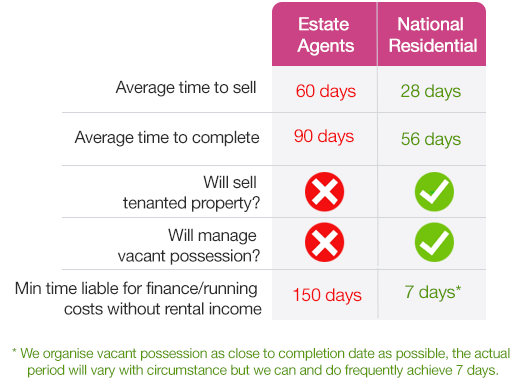 NB. Because 1/3 of estate agents' agreed sales collapse, the actual time spent with an empty property and no rental income when sold through a traditional estate agent could be significantly higher however as we only start vacating a property once it has been sold and the deposit has been paid, the time spent with an empty property when sold through National Residential is unlikely to change.
Contact us today to discuss our sales options and the best way to sell your tenanted property fast.
If you want to downsize your rental property portfolio (e.g. to reduce finance costs to avoid higher tax bills as a result of Section 24 aka The Landlords tax) and avoid prolonged periods of having empty properties with no rental income to offset finance/running cost then our FIXED PRICE option may be best for you.
We will agree a price you are happy to accept for the property then we will try to sell the property for a higher price within 28 days (there are no estate agency fees for this type of sale so we take our income from the difference between the price we agree with you and the price we can achieve).
The price we can offer will be lower than you might expect to achieve selling a vacant property through an estate agent however you pay ZERO FEES/SALE COSTS (we do not charge fees or commission and we pay for the EPC, searches and legal packs etc) NOR WILL YOU PAY ANY COSTS INVOLVED IN VACATING THE PROPERTY and we pay £600 towards the legal costs to complete the sale.
If you sell a rental property through us, the time you will be liable for finance / running costs while the property is empty will be dramatically shorter than if you have to vacate your property before a sale is agreed (in order to sell it through an estate agent). Add that to legal/court costs involved in vacating a rental property to sell it through an estate agent and the accumulated savings could easily be MORE than the compromised sale price.
Our longevity depends on providing people with great value, great options and total transparency. If you choose to sell through us we will provide a detailed account of our expectations and if we do not achieve our targets, you can refuse all offers. As all our options are 'no sale, no fee', it is a risk free option.
Added to the financial sense of selling property with sitting tenants through National Residential; we sell property in 28 days or less and usually complete in 56 days because we only sell to chain free buyers (though completion may take slightly longer if there are lots of complications) so not only do you get a great deal and a total solution, you also get the money in your bank faster than by selling tenanted property through traditional methods at an estate agent.
And finally, if you need some money from the sale sooner than the time it takes to complete, we can arrange a CASH ADVANCE (to be repaid with interest/fees from the final sale amount) once we have secured a buyer – i.e. within 28 days.
What you choose to do with the money (if you take it) is of course up to you but it is intended as an option that empowers people to solve urgent problems and/or maximise the value of the property and the offer we can make – e.g. you can use it to secure a purchase or pay off debts or extend a leasehold or organise repairs to secure a sale etc etc.
We also have other sales options including a 7 day sale (where we can offer you appx 70% of the estimated value in return for a fast, guaranteed sale) and a 28 day sale where you take the full sales price but pay your own fees and all legal costs). Contact us now to decide which is the best option for you.
1) Contact us to discuss how we can selling property with sitting tenants.
We will provide an approximate valuation of your property based on surrounding properties and recent sales prices. We will explain our sales options and if you are happy to provide us with any other information, based on your reasons for selling and any complications involved we will present the advantages and disadvantages of each option.

2) Decide if you are happy to take your enquiry further (no sale, no fee and no obligation to sell)
If you are happy with the theory and provisional figures, we will visit your property to refine the numbers (which are of course dependent on the condition of your property) and take photographs (if appropriate)

3) We will confirm or revise our expectations in writing for you to decide if you are happy to use our services.
If you agree, we will prepare a contract for you to sign. If you are not, there's nothing more to discuss – you simply walk away.

4) If you want us to sell your property:
If you want a 7 day sale, we will begin proceedings to buy your property and we will deposit the agreed amount in your bank within 7 days from our offer being accepted.

If you are happy to wait for a 28 day sale, we will advertise your property locally and online (on property boards such as RightMove, Zoopla etc) and list your property in a 28 day auction style sale (using either our Modern Auction or our Registered Auction platforms dependent on your preferences).
<!end tab panes-->
Find out how
We Can Help You
We will call you back within 24hrs
Data Protection Act
Registered Controller
No. ZA081795
Selling Property With Sitting Tenants
Case Study
Our client came to use after being unable to sell their property through traditional methods. He could not afford to have the property empty for long periods of time and didn't have accessible funds to prepare the flat for sale. We sold the flat with the full cooperation of sitting tenant in place and helped to secure him suitable alternative accommodation. With the cash advance we loaned to the seller, he was able to extend the leasehold on the flat enabling him to get a far better price than if it was offered with a short leasehold.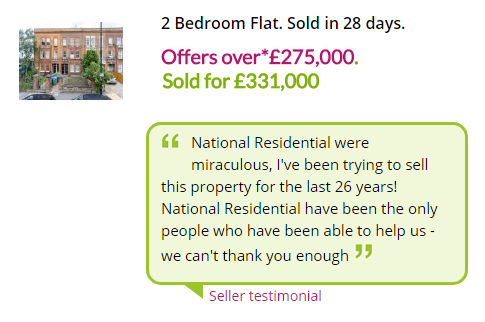 Frequently Asked Sellers' Questions
Just A Few of The Places We Advertise