Agree A Sale; Receive Funds As A Cash Advance; and Pay Back/Move When Restrictions Are Lifted.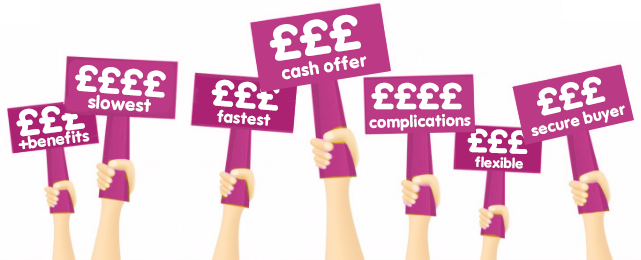 CORONAVIRUS UPDATE
The lock down restrictions ground much of UK housing market to a standstill during March, April & May when high street estate agencies & auction rooms  were closed; buyers were not allowed to attend viewings; and many people were unable to apply for mortgages due to high street closures.  
​
While some restrictions have been lifted; a partial lock down, social distancing requirements, uncertainty and fear are likely to continue much longer with no foreseeable end to the Covid19 pandemic. These all have the potential to continue to affect the housing market as sellers may not want to let strangers into their homes and buyers may not want to visit stranger's homes.   
Likewise, house movers will have a backlog of postponed business to clear and may also be unwilling to provide their service without proper personal protection equipment (PPE).
Mortgage brokers and lenders who rely on face-to-face business  will still find it difficult difficult for them to provide their services resulting in fewer people being able to make an offer on property. Less competition normally equates to lower sales prices.
With the threat of recession looming as a result of the economic and social shut down, any  it is particularly devastating for people who want to sell sooner or NEED to sell property fast – especially those facing an eviction process started before the lockdown period*.
*Under the new legislation, all new evictions will be suspended and no new possession proceedings will be permitted during the period of national emergency BUT the new laws do not guarantee the same clemency for eviction processes that were started before the lockdown.
​How Can National Residential Help Homeowners Who Want Or Need To Sell Fast To Raise Money During The Lockdown?
Our 28 day auctions are online so the lockdown restrictions do not stop buyers bidding.
Or we can buy your property direct and agree a sale in 7 days.
Sellers can email us their own photographs for us to create a listing so no need for any visitors to your home.
Sellers can choose to list their properties without viewings.
We have a huge database of cash buyers who regularly buy investment properties at auction without ever visiting a property.
Our cash buyers do not need to wait for mortgage lending to be resumed to make an offer and secure the sale.
We have established a network of experts including mortgage brokers who operate a contact less service and can arrange great deals on finance.
We can agree a sale during lockdown and provide an immediate cash advance when the buyer secures the sale* which must be repaid when the sale completes after the lockdown restrictions are removed.
Sellers can specify what lockdown conditions need to be lifted before the sale can complete (and they must move out).

*When agreed in advance as part of the sale condition. Please inquire for more details about terms and conditions associated to the sale.
To find out more about the way we buy and sell houses please visit Our Fast Sale Options and phone us 24/7 on 01244 757152 or use our contact form so we can estimate the value of your property and provide more instructions for sending us your photographs if you want to proceed. One of our consultants will phone you back ASAP in office hours.