Find your perfect property at an amazing price
Our sellers have contacted us for a quick, certain sale. This provides buyers with fantastic opportunities to buy properties at great prices in return for secure offers and quick completions.
All our properties are offered at very attractive prices and once a bid has been accepted, buyers secure the sale by paying a non-refundable holding deposit (1% of the sale price subject to a minimum £2500).
We sell properties by auction over 28 days or less and by fixed price.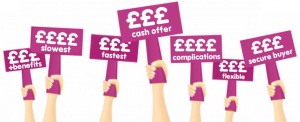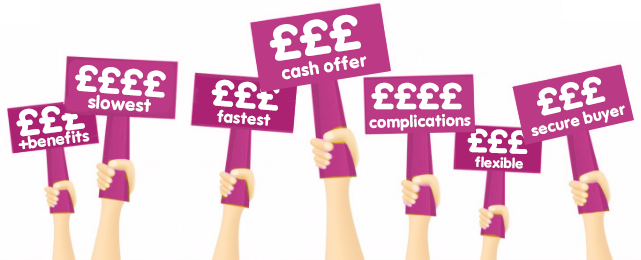 28 Day Modern Property Auctions
The Online National Residential Agency modern auctions enable online bidders to bid on properties 24/7 once they have registered interest and our consultants have qualified them to take part (by ensuring they understand the process and are able to pay the holding deposit if they win).  We also accept bids from qualified bidders by telephone and through our network of local estate agents.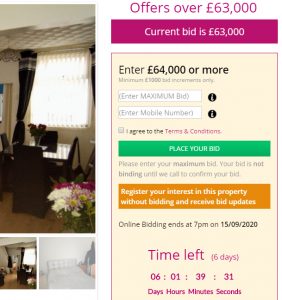 The wining bid is normally the highest bid from any source though sellers also have the right to choose a lower offer if they want to choose the fastest completion. Our sellers set an undisclosed reserve and do not have to accept any bid that does not meet the reserve however many of our sellers are motivated to sell quickly and may consider lowering their reserve if necessary to sell their property.
Our properties are open to cash buyers and people who need to arrange a mortgage however, if you are a cash buyer who can complete faster  or wish to make a realistic buy-it-now offer to secure the property and end the auction early, please let us know.
PLEASE NOTE: Because the end date is not fixed and auctions can be ended early if an acceptable offer is made beforehand, anyone interested in a property is advised to register interest as soon as possible and to submit their offer as early as possible.

---
Fixed price (Offmarket) Properties For Sale
This is a fantastic opportunity to buy property traditionally for less than estate agents' valuations.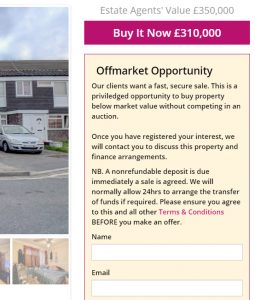 Most of our 'OffMarket' properties are listed pre-auction or relisted post auction because sellers need a fast sale and want to explore all options.
Some properties are currently occupied by owners or tenants who are worried about allowing viewings in the climate of social distancing. Any property with limited opportunity for viewing will be indicated in the property description.
We are therefore looking for serious private buyers and/or investors to buy at the 'Buy It Now' price quoted with minimal disruption to the current occupants.
Also, some properties may be of particular interest to buy-to-let investors who would welcome the opportunity to purchase low cost property trusted tenants in situ.

---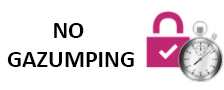 The deposit ensures the property is removed from market and no more offers are considered. The deposit is NOT an additional cost. Only the remaining balance is payable on completion.
National Residential Helping Buyers & Sellers Complete.
Our sellers come to us to sell AND COMPLETE quickly. All buyers must agree to complete in 56 days and risk losing their deposits if they break these terms though this period can be extended with prior agreement (if our sellers agree) due to special circumstances such as those imposed by Covid-19 restrictions.
To further this cause, we only accept bids or buy-it-now offers from buyers who are not dependent on the sale of another property to proceed.
Plus once a sale has been agreed and the deposit taken, to ensure sales do not collapse National Residential act on behalf of the buyers and sellers to ensure any problems uncovered in surveys are dealt with professionally and quickly to both parties' satisfaction.
95% of our agreed sales complete so fewer of our buyers (compared to other estate agents) waste money on surveys on property sales that eventually collapse.
In addition, most sales complete in 56 days or less so buyers spend less on temporary accommodation while waiting for sales to complete.
Additional Services
We have developed a large network of the best property related service providers including independent financial advisors who find the best deals available from the leading mortgage lenders (often not widely advertised to the public) and panel solicitors who are approved by all major lenders and prioritise our clients to ensure the legal work is completed quickly and to the excellent standards demanded of panel solicitors.
As a result, we can help buyers find the best mortgages and complete in the time frames we require though most solicitors and mortgage lenders can complete in the time frames given if they are advised of the time restrictions as soon as a sale is agreed.
To avoid risking unnecessary delay and the possibility of losing a deposit, we strongly recommend that buyers ensure they have provisional agreements in place before making any offer/bid.
Please ask our sales team about these services before your offer is accepted if you are considering using them so that they can contact you and be ready to proceed as quickly as possible if you decide to use their services and your bid/offer is accepted.
Terms & Conditions
For a full list of our bidding/buying terms & conditions, please see our Online Sales & Bidding Terms & Conditions. NB. By bidding or making an offer, you agree to these terms.
For more information, please use the 'Request More Details' form on the property of interest or call our sales team on 0800 6123694. We will be happy to answer any question with no obligation to proceed further.