Are All Property Auctions The Same?
ABSOLUTELY NOT – also, worthy of note: not all bidders are the same either – our auctions recognise that.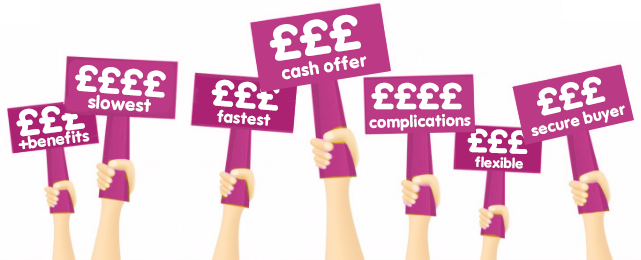 The method we use to sell property is often referred to as a 'Modern' Property Auction' (also known as conditional auctions). It is different to many other types of auction (offline and online) because of what happens when the bidding ends. In a Modern Property Auction when bidding ends the winning bidder pays a non refundable deposit to secure the property but the crucial difference is the winning bidders are given time to secure lending.
Because our auctions are open to private buyers with mortgage funding (not just cash buyers who are often developers looking to buy a property at rock bottom prices so they can make a profit when reselling), our properties typically sell for 10 – 15% more than similar properties sold at auction houses.
Our fees are lower too, (see next section)!
Similar to the 'sealed bids' process, in our auctions a winning bid is the BEST offer the seller chooses to accept which is usually but not always the highest bid. Like traditional auctions, all bids are legally binding and the bidding process is transparent so all bidders are kept informed of other bids throughout the process.
National Residential Auction vs Auction House: Seller Costs
Our commission rates range from ZERO – 1% (min £2,000) depending on what sale option our sellers choose.
Auction houses normally charge between 1% – 3% commission. As well as higher commission fees, many auction houses also charge an entry fee, legal fees and additional advertising fees that can easily add £3000 to the cost of their services and some of those cost will be charged whether a property sells or not.
We do not charge any type of entry fee (ever) or legal fees if a property does not sell. Almost all our sellers set a reserve price and there is no entry fee, marketing fee, legal fee or agency fee to take part in an auction so, with a no sale, no fee policy, we simply do not get paid for our time, effort and costs if we cannot match or exceed our seller's expectations.
If we cannot sell a property, our sellers pay nothing !
Buyer Experience
As well as making it possible for mortgage lenders to bid, we work hard to do everything we can to make participation in our auctions less daunting than other auctions and to ensure buyers are kept informed of all costs and conditions before bidding so that their experience is a happy one.
Bidding can be done independently from the convenience of a phone or computer connected to the internet or with the help and guidance of our consultants over the phone. The bidding window is open for longer and we always end our auctions outside office hours to make them as accessible as possible.
The better the experience is for a person interested in a property, the more likely they are to bid. Normally, the more bids there are in an auction, the more the competition between bidders pushes up the final sales price. AND the greater the transparency in a process, the less likely it is that the sale will fall through due to buyer grievances and/or misunderstanding.
Buyer Fees / Costs
National Residential do not normally charge buyers' fees* and the nonrefundable deposit buyers pay to secure a sale always counts towards the final sale price so buyers do not lower their bids to factor in costs that are paid to the auctioneer.
* In some circumstances, sellers do ask us to charge buyer's fees rather than commission so they know their 'walk away' price more easily. When this happens all fees are clearly marked in the property description.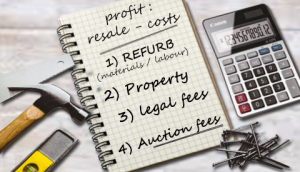 Most property buyers (and especially cash buyers who attend auction properties) are restricted by budget – whether that is determined by lending limits or ROI and have to factor the cost of buying at auction into the offers they can make. Buyer fees and charges effectively take money out of the 'property budget' into the 'costs budget' and ultimately out of the sellers pockets into auction house profits.
Some auction providers charge a non refundable reservation fee in addition to a buyer deposit or a deposit that does not contribute towards the final sale price. This and any other cost the buyer has to pay will either affect the offer they make for your property or could jeopardise the sale if they were not aware of the additional costs.
At National Residential there are no hidden costs. We work hard to ensure all our costs and commitments are know to sellers and buyers throughout our processes so that the sales complete as fast as possible and our reputation among buyers and sellers is held in high regard.
To see what buyers (and sellers) think of our services please check us out on Google Reviews, Trustpilot and/or our own testimonials page (that also include the length a property has taken to sell, the starting over (guide) price and the final sales price.
Conveyancing
As we mentioned earlier, one of the biggest differences between traditional auctions and modern auctions is what happens after a sale is agreed – modern auctions offer slightly longer for completion meaning the auctions are open to more people (so the sale price is more likely to be higher and the added time means sellers have more time to prepare their property for handover after a sale has been agreed so they can keep their options open until they receive a suitable offer).
Once a sale has been agreed and a deposit taken, the whole process is handed over to solicitors to complete the process for their respective clients within the permitted time frame.
The added certainty in terms of completion and schedule that an auction sale provides are two of the many reason people choose to sell their properties at auction rather than run the risk of broken chains, collapsed sales and frequent delays.
Most auction houses recommend conveyancing solicitors but are not involved in helping them to achieve the deadlines so sellers (and buyers) must take responsibility to maintain an active interest in the progress of the sale and to demand timely developments and remind solicitors of the conditions of the sale as required.
We can provide panel solicitors to act on behalf of both buyers and sellers and we will even pay £600 +VAT towards our sellers' legal fees* if they use them because we can use our repeated business with the solicitors to ensure they prioritise our buyers/sellers and it makes it easier for us to liaise between them to ensure our track record of fast completions are not damaged.
The difference between National Residential and other auction providers in respect of conveyancing/completion is our involvement. By participating more in the process (e.g. posting documents and providing postage paid envelopes for fast return, ordering searches, liaising between solicitors, surveyors and mortgage lenders, helping to present solutions where problems arise) we do the most to ensure more auction sales agreements complete.
Solve Problems Using Our Cash Against The Equity In Your Home
These options are not relevant to everyone which is why we have saved them for last but for anyone considering an auction because their property is unsuitable to sell at an estate agent's – e.g. if it is tenanted, has a short lease, is in a state of disrepair and/or in need of clearing or is unmortgageable – OR because they need a fast sale but want a better price than selling directly to property buyers (an option we also provide), we can provide very useful options that auction houses do not provide.
We can:
Maximise the Sale Price
We can use our fund to solve problems that affect the value of a property before the sale completes if the cost of the solution is less then the added value to the selling price – i.e. if it is worth YOUR while to do so.
Provide Cash Advances*
If you need cash ASAP, we can advance a % of the final selling price ahead of completion.
Stop Debt Collectors Adding Interest & Charges To The Debt*
If you are selling an asset to repay lenders, the sooner you can do it the less interest and charges will be added to your debt. Do not underestimate the cost of debt – it can add thousands onto a moderate debt.
Stop Repossession Orders and Give you Time To Relocate On Your Own Terms*
If you have a repossession order against the property because of missed mortgage repayments, we can pay your lenders what is outstanding and lend you a cash advance if there is any equity tied into the property so that you can get a better price for your property and organise alternative accommodation before the sale completes.
For more information about how National Residential can provide more options and a better sales price than traditional auctions, get in touch today.
We will explain our options, estimate the sale value of your property and suggest a reserve price we think can achieve.
* If you need the speed of a traditional auction but the performance of a modern auction, these solutions are ideal for you.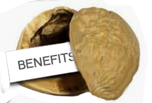 Benefits In A Nutshell
Compared to other auctions (either in an auction room or online), we think our auctions are best because they provide:
Less Risk: Most other auctions charge entry fees and advertising costs whether a lot sells or not. We don't.
Better Sales Prices: Our deposits are not an extra cost so buyers have more money to spend. Our auctions are open to more people to drive up the competition AND we go out of our way to ensure bidding is as easy and convenient as possible for buyers so everyone who wants to bid, will bid.
More Convenience: No waiting for the next auction date – our sellers set their own auction schedules.
More After Sales Support: We make it our job to sort out practical, legal and logistical problems then we keep everyone involved in the process informed of all progress or developments to provide our sellers with a single point of contact throughout the process.
More options: As well as having more sales options, our sellers can choose the BEST bid (not always the highest) and take advantage of other options such as taking a cash advance.
Faster Completions: Money in the bank sooner!
If you NEED to sell your property quickly – e.g. to raise cash OR to lower overheads OR to ensure you get the best price for a property that is about to be repossessed – or you simply WANT to set schedules so you can plan your future with more certainty and you are thinking of selling by any other auction type (online, offline, traditional or modern) WE STRONGLY ADVISE YOU TO TALK TO US FIRST.
We provide a real alternative to other types of auction. We will answer your questions, estimate a realistic selling price, suggest a reserve price and provide a detailed breakdown of all costs or fees so that you can compare our auctions to other auctions. With no obligation to use our services or proceed further, you really cannot lose… if you use our callback form to contact us, we even pay for the phone call!
Know ALL your options – talk to us today.
Please use our callback form to submit your contact details any time day or night and we will phone you back ASAP during office hours.
---